Qatar University students visit Commercial Bank as part of their internship program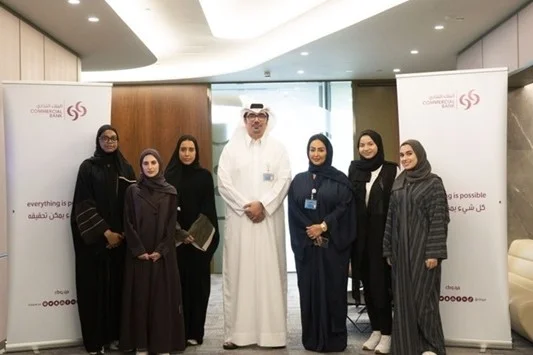 As part of its Corporate Social Responsibility, Commercial Bank joined forces with DotSpace agency to host eight Qatari students from Qatar University as part of their summer internship program.
"Corporate Social Responsibility is a concept and practice, which has been part of Commercial Bank's approach for many years, where the Bank engaged in a comprehensive range of meaningful Corporate Social Responsibility programs, whether it be through the Bank's longstanding commitment to Qatar National Vision 2030, or in-built into its corporate strategic plan initiated in 2016," the bank said Tuesday.
Through this initiative, students enrolled in the College of Business and Economics, specializing in Marketing, enjoyed a field trip to CB Plaza premises, where they had the chance to experience a day with the Marketing and Communications team members, where they were able to see how the work flows between the Marketing Department and all other business units at the bank as well as the relationship and collaboration between the bank and its corresponding agency to support in the preparation process of a marketing campaign along with all communications handled internally and externally.
Hussain Ali al-Abdulla, executive general manager and chief marketing officer and head of CB Premium Banking at Commercial Bank said, "At Commercial Bank, part of our strategy is to provide our clients with the best products and services, however Corporate Social Responsibility remains yet another integral part of the Bank's corporate strategy. The students' visit to the bank is part of engaging them in the workplace environment and giving them an insight of what happens during an actual working day and how they transition from theoretical to professional practice".
The visit is part of Commercial Bank's strategy to support and develop national talents and to help those students in their personal development and transition to the workplace by equipping them with the skills, competencies and mind-set needed to be successful in their careers.
Since its inception over forty-seven years ago, Commercial Bank has been committed to supporting Qatar's national development by giving back to the wider community through a comprehensive range of meaningful Corporate Social Responsibility programs formulated and implemented by the bank's Marketing Department and the bank will continue implementing the same process in the future.