Doha Bank donates QR100,000 to Qatar Red Crescent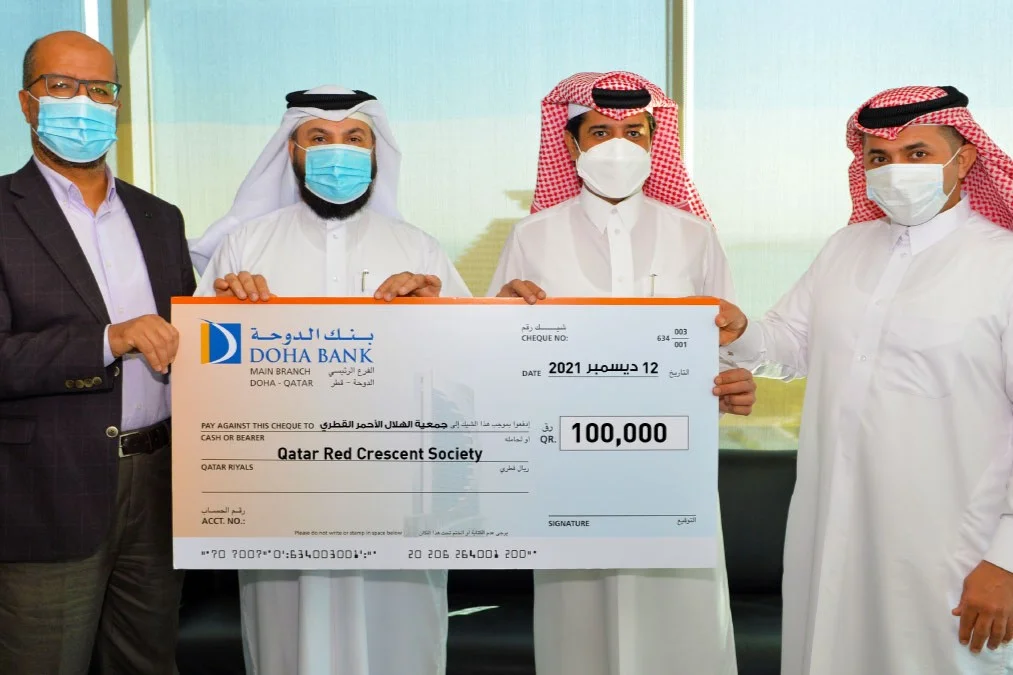 Reinforcing its commitment to humanitarian and charity efforts, Doha Bank, one of the largest private commercial banks in Qatar, has recently donated cash aid worth QR100,000 to Qatar Red Crescent Society (QRCS), a volunteering humanitarian organization recognized by the International Federation of the Red Cross and Red Crescent Societies (IFRC) in Geneva, to support the seventh edition of its annual 'Warm Winter' campaign. The campaign is aimed at providing essential needs during the cold winter months to refugees and displaced people from conflict-ridden countries in the region.
Under the slogan, "giving warmth", the relief campaign seeks to provide winter aid to 170,000 poor and vulnerable victims of war and disasters in Syria, Iraq, Lebanon, Yemen, Afghanistan, and Kyrgyzstan at a total cost of approximately QR12.2m.
"We are pleased and proud to be a part of this noble campaign that aims to ensure the provision of much needed aid to the people, especially women, children and the elderly, who have been displaced by war, conflicts and natural disasters and are forced to seek refuge in tents or makeshift shelters with little infrastructure to protect them from freezing temperatures. As an organization that strives to support consumers in meeting their needs and achieving their life goals, Doha Bank holds selfless humanitarian efforts in high regard. This aid is part of our corporate social responsibility (CSR) program, which seeks to support initiatives that will make a profound impact on the lives of marginalized and vulnerable communities in Qatar and around the world," said Ahmed Al Hanzab, Head of Administration & Property Department at Doha Bank. He added: "We commend QRCS for their efforts to help the less fortunate and underprivileged sections of local and international communities towards realizing its vision of a better world for everyone. With our strong social commitment, we remain determined to extend our support to the agency's initiatives in the future as well".
Consistently recognized for its commitment towards social and environmental causes, Doha Bank has received a number of accolades, including the "Golden Peacock Award for Sustainability in Financial Sector 2020" presented by the Institute of Directors (IOD) India.